Nowadays artificial grass is taking over natural grass because of its natural look and low maintenance. Apart from the artificial lawn, where can we use this artificial turf to achieve the most attractive and elegant appearance? There are uses of artificial grass where you can install artificial turf to magnify the look. You can hire a professional installer or you can install it by yourself. But a professional can install better than you as they give you the best finishing touch.
Let's delve into the topic to explore more uses of artificial grass in different spots.
Uses of Artificial Grass For Homeowners in Different Places
Balcony Lawn
All of us want a great balcony where we can chill out and eliminate stress. A little greenery will be enough to do this. For the urban balcony, artificial turf or synthetic grass is the only option that can turn your simple balcony into a beautiful garden.


Deck Area
If you live in a big house and you have a deck area then, you can make it more attractive with artificial grass carpet. You can also divide your sitting area with the artificial rug which will discrete it from the rest of the area.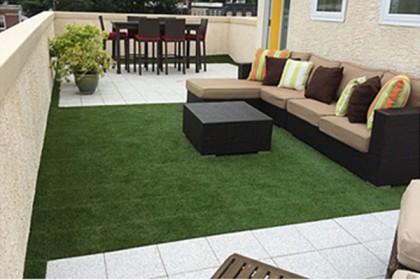 Foyer Area
The foyer is a small hallway that connects the main door of your home to the rest of the house. It is now trendy to design the foyer in such a way that when someone enters the house, they are greeted with a warm and welcoming sensation. With a few geometric patterns, you may mount artificial grass on the wall.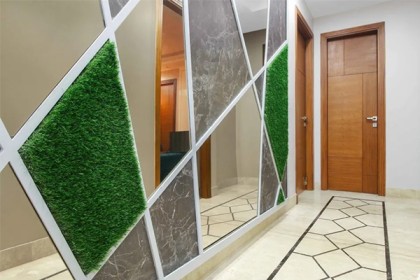 Play Area
A play area can also be designed with artificial turf. Artificial turf is so soft and resistant to harsh conditions. It is also safe for children and will provide a comfortable feeling while playing. You can install it in your backyard or balcony for playing purposes. Before mounting the turf, make sure the place is safe from direct sunlight.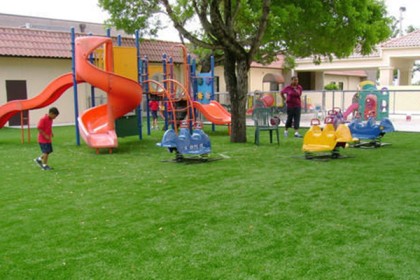 Driveways
If you prefer a luxurious and attractive parking space, this artificial turf can be the best choice. According to the parking space, it may be tricky to mount the turf but it will give people the illusion of a well-maintained driveway.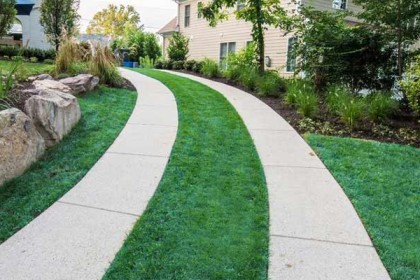 Courtyards
If you have a courtyard, lay down an artificial grass rug. These turfs require minimal upkeep and provide a beautiful natural appearance to the courtyard.
Walkways
There are numerous advantages to installing the artificial turf. As a result, homeowners often choose artificial turf for walkways. Artificial grass not only withstands high traffic but also provides a natural feel when walking on it.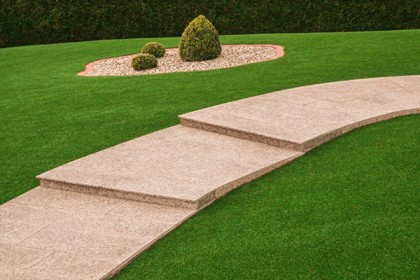 Outdoor Area
Artificial turf can be installed in an outdoor location where people enjoy hanging out. Artificial turf requires less upkeep and does not require mowing. This will provide a wonderful ambiance for all of your little gatherings.
Pool Deck
Generally, homeowners prefer artificial turf in pool areas because of its less dirt feature. This is more feasible and manageable than the natural grass on the poolside.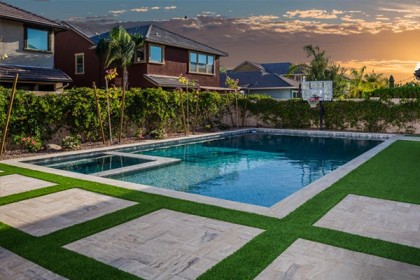 Grass Curtain
A grass curtain is also a great option to decorate your balcony. This turf creates a nice ambiance also at the same time it maintains your privacy from the nosy neighbors.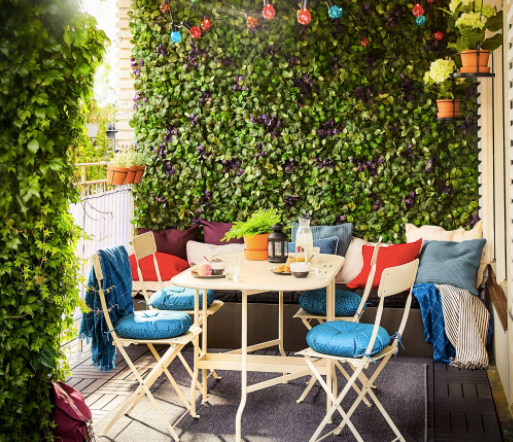 Staircase
Artificial turf on the staircase wall is a brilliant way to infuse some greenery into the interior of the home. This gives a sophisticated look and feels inside the house.  This resembles a vertical garden in appearance.
Bathroom Wall
If you want some fresh feeling inside the bathroom then, mount artificial grass on the bathroom wall.  This will make you feel pretty good inside the bathroom. It's a splendid idea to get artificial turf that is low maintenance and water-resistant.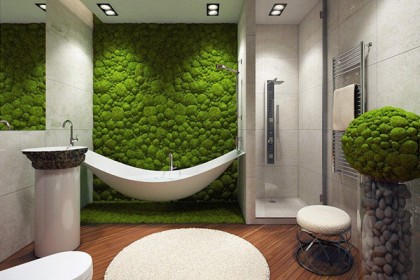 Bedroom
People are now integrating small amounts of greenery in urban places. How can they skip bedrooms?  If you are a nature lover, consider incorporating fake turf into your bedroom wall or balcony, or any sitting area. This will undoubtedly improve the decor and give a somewhat more sophisticated appearance.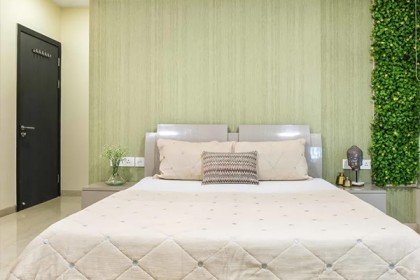 Conclusion
I hope you consider these uses of artificial grass while deciding where to install artificial turf in your home. Install synthetic turf to enhance the appearance of your dream location.

Do Check Out This: How To Install Artificial Grass In 5 Easy Steps You can also follow us on Instagram or Facebook  for such interesting installation tips