Exterior cladding installation is the process of installing cladding panels on the exterior walls of a building. This type of cladding is used to improve the aesthetic appeal of a building as well as to protect the walls from weather damage. There are many different types of materials that can be used for exterior cladding and we at TheInstallers are dealing with different types of exterior claddings like ACP, Thermopine, Weathertex, WPC, Charcoal, and Terracotta tiles.o protect it from the elements. 
These Exterior Claddings make the exterior of any building more beautiful and appealing. Wall cladding is ideal for any new building or renovations and also wall cladding is suitable for residential and commercial in both indoor and outdoor applications.
When it comes to your home, the first impression is always the best impression. The front of your house is what visitors will see first, so you want to make sure it looks fabulous. One way to do that is by installing exterior cladding. This type of material can give your home a whole new look and feel, and it can also protect it from weather damages
Here are just a few of the many uses for exterior cladding installation:
Protect your home from the weather: Exterior cladding can help to protect your home from strong winds, rain, and even fire.
Increase your home's energy efficiency: Cladding can act as an extra layer of insulation, which can help to keep your home warm in the winter and cool in the summer. 
Improve your home's curb appeal: If you're looking to sell your home, or just want it to look its best, exterior cladding can give it a fresh, new look that will impress everyone who sees it.
Why TheInstallers for Exterior Cladding Installation
We always use the best materials for our installations. For exterior cladding, we use a product that is not only beautiful but also durable. We install the cladding using a method that ensures it will last for many years. First, we prepare the surface by removing any old cladding and cleaning the area. Next, we apply a primer to the surface. Once the primer is dry, we apply the cladding. We use a special adhesive that creates a strong bond between the cladding and the surface. Finally, we finish up by caulking all of the seams and trimming any excess material.

Our installers are trained and understand all the pros and cons of exterior cladding in order to provide these services, our professionals use the best quality aluminium panels heat, and other allied materials. These aluminum sheets are highly appreciated by our clients for a long-lasting nature.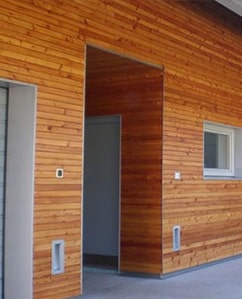 OTHER DETAILS
Only quality assured sheets are used.
Really affordable.
Total client contentment.
Should always begin at the base to ensure its level across the whole wall. All of our wall cladding installers are fully accredited professionals which means you can have peace of mind that your cladding is installed properly.


Hire TheInstallers now, for the best Exterior Cladding Installation Services