Exterior cladding is a very common material used on the exteriors, We usually call it HPL that is High-Pressure laminate HPL is most architectural choice to use on facades of the building, on elevation, on gates, etc,
Exterior cladding installation is composite wood cladding that makes the exterior of any building more beautiful and appealing. Wall cladding is ideal for any new building or renovations and also wall cladding is suitable for residential and commercial in both indoor and outdoor applications.
INSTALLATION
Our installers are trained and understand all the pros and cons of exterior cladding in order to provide these services, our professionals use the best quality aluminium panels heat, and other allied materials. These aluminum sheets are highly appreciated by our clients for a long-lasting nature.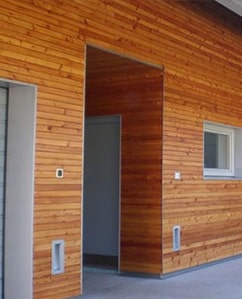 OTHER DETAILS
Only quality assured sheets are used.
Really affordable.
Total client contentment.
Should always begin at the base to ensure its level across the whole wall. All of our wall cladding installers are fully accredited professionals which means you can have peace of mind that your cladding is installed properly.