Are you stuck with vinyl? All you need are some vinyl flooring ideas for kitchen to get you started.
Because your kitchen is the beating heart of your home, selecting the right floor type is absolutely essential. When remodeling your kitchen, it's crucial to choose a floor that looks sharp and modern while also performing the functions that a kitchen floor should. It's also essential to ensure that your floor is highly resistant to spills, water, stains, and whatever else life throws at it.
Vinyl is a long-lasting, practical, and affordable floor covering that is also simple to clean and maintain, easy to install, and comes in a wide variety of styles and colors.
This guide will show you the hottest colors, patterns, and trends in the fashion world.
Wood-Look Kitchen Flooring
If you have a more traditional kitchen, you might want the look of real wood without the maintenance. Wood effect vinyl can look extremely realistic, as these vinyl planks from Lowes are a good example.
With an embossed textured wood look, you get the look and feel of real wood while also getting the durability that a kitchen requires. It's also completely waterproof, simple to install, and easy to clean.
Waterproof Vinyl Kitchen Flooring
Waterproof vinyl flooring is the most recent innovation in luxury vinyl flooring and one of the most durable options available. Waterproof flooring is becoming increasingly popular as a result of its convenience and ease of maintenance.
This vinyl flooring is completely waterproof and has four layers, including a waterproof core that can withstand spills and splashes.
Waterproof vinyl floors are available in two varieties: WPC vinyl and SPC vinyl. Both options are popular right now, but SPC is a little newer and growing faster.
Tile Effect Vinyl Flooring
Vinyl flooring with a tile effect is ideal for modern kitchens. It's almost waterproof to handle spills and splashes, and it's also tough enough to handle high-traffic areas of the house. Vinyl flooring is also much softer and warmer underfoot than tiles, and it works well with underfloor heating.
Tile effect vinyl flooring, on the other hand, is a stylish and affordable option that has an authentic look and is long-lasting.
Our tile effect vinyl flooring is available in a variety of styles, ranging from dark tones to lighter tones, so make sure you find a look that works for you.
Natural Stone Vinyl Flooring
Vinyl not only can imitate wood and ceramics but also can natural stones like slate at a fraction of the cost.
For a more rustic or industrial look, stone-look kitchen flooring is ideal. Stone-look floors are still a popular choice for many homeowners, despite not being as popular as wood-look floors.
Get the look of natural stone flooring in a more comfortable way. Consider the look of natural stone: the enthralling mosaic shapes, the delicate veining, and the stunning blend of organic colors and clefts. Stone-look vinyl flooring captures the beauty of materials such as slate, travertine, and quartz.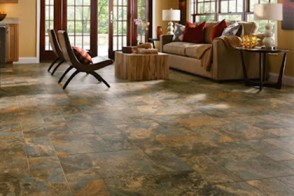 Decorative Vinyl Kitchen Flooring
Decorative vinyl flooring is becoming popular continuously for use in commercial and residential interiors. As the capabilities of print-on-demand manufacturing have improved, the possibilities for designs on vinyl flooring are more.
Previously, design options were limited to replicas of traditional floorings such as hardwood or tile. Today, customization expands the design possibilities to infinity. It is possible to print anything you can imagine.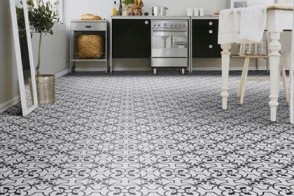 If you're curious about vinyl flooring and considering installing it in your kitchen, contact THEINSTALLERS. We can answer any questions you may have, make suggestions, and assist you in finding the ideal design and fit to achieve the look you desire.

If you found this article on vinyl flooring ideas for kitchen, you can also follow us on Instagram or Facebook

Check This Out: What Is Exterior Cladding? The Best Wall Cladding Options to Consider For a House