Why do we pay so much attention to flooring and wall colors but ignore the least obstructed plane in our homes? The ceiling is an excellent place to begin your creative process.
In a room, the ceiling takes up the most visual space. Except for a fan or lighting fixture, it's a large expanse with no interruptions. As a result, selecting a ceiling that will complement a room is critical.

Consider the size of the room, the height of the ceiling, and your budget when considering these ceiling ideas. This will aid you in selecting a ceiling treatment that will complement the room, make it appear larger, and draw the eye upward. Here are the best ceiling design ideas to elevate your home or workspace

Types of Ceiling Design Ideas
1. High Gloss
An ultra-glossy, reflective finish that shines is one of the most recent ceiling trends. A glossy surface deceives the eye, making the room appear larger, especially when combined with lighter colors and furniture. However, if using paint, the surface must be polished smooth so that no bumps are visible.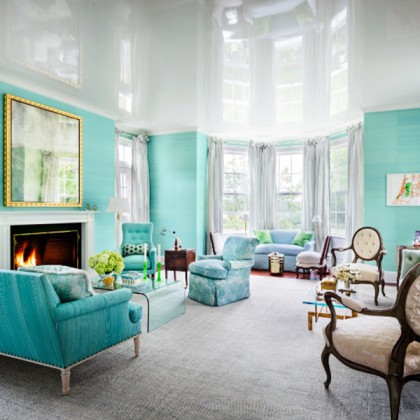 2. Wood Ceiling
One of the simplest ways to add warmth to a room is to install a wood ceiling. While white pine is the most common wood ceiling material, cypress or cherry can also be used to add a splash of color. Because, unlike the floor, your ceiling will not be subjected to as much abuse, you have more options when it comes to the type of wood you use.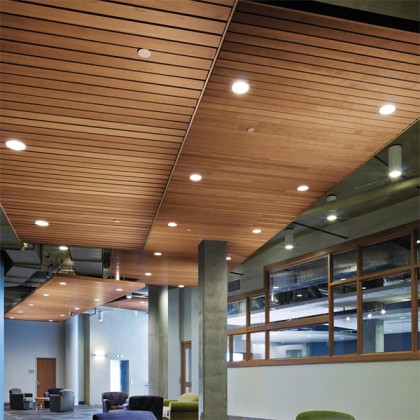 3. Wallpaper
Although it's known as wallpaper, this decorative material can also be used on a ceiling. Papering up a horizontal surface is a little more difficult, but the results are well worth the extra effort. Ceiling wallpaper can add character, improve the visual proportions of a room, and bring patterns into awkward spaces.

4. Plants
Adding a few live plants to a room as decoration can instantly make it feel bright and fresh. Complete frames with overflowing fronds can be built and hung to take the greenery to a whole new level. Cover the ceiling entirely, create a pattern with hanging boxes, or simply hang plants from open beams. The green ceiling appears to be simple and sleek, but it's actually a structurally supported plant trough with a hidden irrigation system and drains to keep the plants well-watered and alive. Maintaining the plants is a significant time and financial investment, but it is well worth the effort to make such a statement in the restaurant.

5. Striped
Stripes are a final way to make a ceiling unique and interesting. In smaller spaces, stripes that run parallel to the flooring may be the best option, but stripes in any direction are acceptable. Depending on the size and shape of the room, stripes that join at different angles, run perpendicular to the flooring or furnishings, or even conjoin on an angled ceiling are excellent choices. Sticking with similar widths will keep the ceiling design unified and unique, as a variety of widths may appear a little clownish. Bold, contrasting colors, as well as the same color in various finishes, can be effective. The end result will be a one-of-a-kind ceiling design that will be difficult to overlook.

6. PVC Ceilings
PVC stands for Poly Vinyl Chloride, a synthetic material that is commonly used in ceilings. It is cost-effective and provides a superior finish. While wood grain PVC panels are frequently used to cover the living room roof, glossy white is another option for brightening the space.

7. Gypsum Ceiling
If you like colored ceilings, Gypsum is a great choice! To match the interior theme, the material can be designed in almost any color and shape.. False ceilings made of gypsum board are available in a ready-to-install format. They're attached to a metal frame that's attached to the ceiling slab with screws. The gypsum board can be attached to the ceiling with screws. The installation of a gypsum ceiling is quick and easy, and it reduces the amount of dirt created during the process.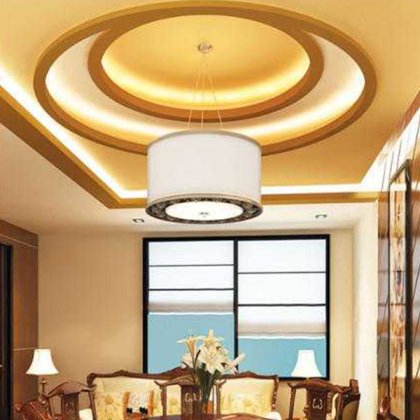 We hope, you have got the all info and inspiration you need. These are the topmost ceiling design ideas for a home or workspace. If you are looking for any of these ceiling material installations, you can hire TheInstallers
Check This Out: Vinyl Flooring Ideas for Your Kitchen | Flooring Ideas to Upgrade Your Style

You can also follow us on Instagram or Facebook for more interesting updates