We've all imagined having fashionable wardrobes like celebrities. Who wouldn't want something that appears to have come directly from a magazine? Based on the bedroom design, it will be placed before getting inspired to design your own wardrobe. Let's discuss the trending wardrobe design ideas
Wardrobes are the most frequently used furniture piece in your bedroom, which are extraordinary places to store garments and other important accessories after the bed.
Everyone has their own opinion of what makes a perfect wardrobe. Today, you may build a variety of wardrobes based on your specific needs as well as the kind and size of the bedroom in which it will be installed.
Before choosing a wardrobe for any bedroom in your home, you must first decide whether you want a freestanding or built-in closet. Freestanding wardrobes have the advantage of being readily moved to another bedroom or a new home if you decide to relocate.
Designing a built-in wardrobe is another possibility. While built-in wardrobes are not moveable, the main advantage is that you can customize and personalize them in terms of materials, size, colors, and accessories to fit your taste and needs.
Check out this article if you're not sure what kinds of wardrobe designs are available. Here are the latest wardrobe design ideas
Sliding Wardrobes
In simple terms, sliding wardrobe doors are standing closet doors that open horizontally by sliding and are generally used for storing clothes. Sliding door wardrobes are a modern take on the more traditional and classic hinge door closet styles.
If you want to make your bedroom space, this is the best choice, unlike other wardrobes, it occupies less space, allowing for more free space in the room. They can be composed of a wide variety of materials and in different kinds of sliding systems, creating endless possibilities. For sliding door wardrobes glass doors can be chosen.
Hinged Wardrobes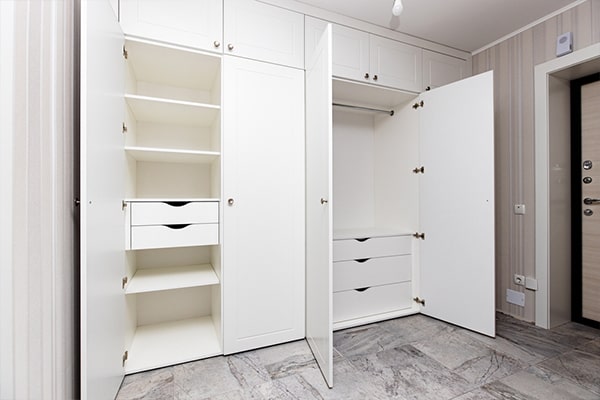 Hinged Wardrobes doors swing outwards into the room on their hinges. Sliding wardrobe doors, on the other hand, can only be slid into their opposites. These are known as standing wardrobes and swing door wardrobes which are the most common and traditional types of wardrobes.
These wardrobes are more expensive than sliding door wardrobes, the installers need to spend a lot longer adjusting and fitting the doors that are the reason why hinged door wardrobes take much longer to install.
Mirror Wardrobes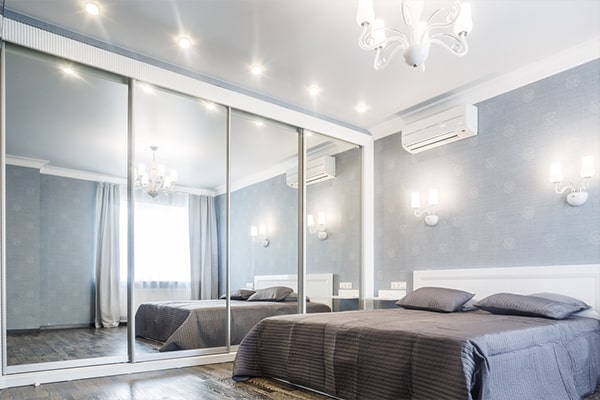 Mirrors wardrobes are one of the best wardrobe design ideas. In a small bedroom, mirrored wardrobes will be a lifesaver, providing essential storage and clearing mess without picking up too much visual space. It brightens a room by reflecting natural light and giving the impression of more space. Mirrored doors are a great option for giving visual appeal to space and reshaping it into a dream bedroom.
Walk-in-Wardrobe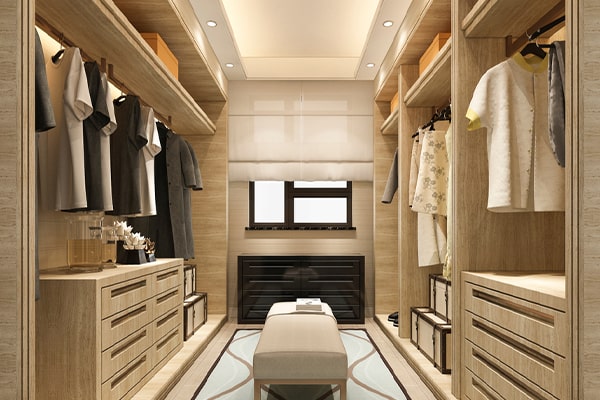 Walk-in wardrobes may take your bedroom to the next point of development if you have the luxury of space. They are the essence of luxury, with sufficient storage capacity for all of your clothes and different accessories, which don't expose you to overstuffed drawers and overcrowded racks.
You will be able to better categorize and organize your accessories. Furthermore, you will always be able to find whatever you are searching for quickly and simply without having to search and dig through a messy closet.
Customized Wardrobes
After you've decided on a design, you may choose the wardrobe's material. For standard wardrobes, you can choose from plywood or wood. After deciding on the basic material, you can choose from a variety of finishing options such as acrylic, aluminum, laminate, and many other options.
Once you've decided on the key details, we may move on to the finer points, such as selecting wardrobe accessories. Pull-down drawers, multifunctional pull-out drawers, shoe racks, trouser/shirt holders, pull-out hangers, and other options are available.
Everyone has their own vision of the ideal wardrobe, and happily, the installers have a wide range of solutions to meet all of your storage, organization, and aesthetic requirements. We are confident in the quality of the service we provide. If you are planning to take the best wardrobes for your personalized bedroom, we are here to help you with a perfect wardrobe installation
We hope you have enjoyed these wardrobe design ideas. You can also check Best Interior Wall Design Ideas for Luxurious Look

Follow us on Instagram or Facebook for more interesting updates.