Interior wall design is simply a painting option for a few, while for others who live in an artistic and creative world, it is a source of joy. Whether you paint or decorate the walls (with creativity), the materials and styles you choose should improve the overall appearance of the room and add value to your home. Aside from that, each room serves a specific purpose, so the styles you prefer should correspond to the needs of a living room, playroom, and bedroom.
Your imagination is the only limit when it comes to decorating your walls; however, you must ensure that the decoration is elegantly tied in with the overall style of the room. Paint and wall covering materials must be in keeping with the room's overall vibe.
Let's check the best interior wall design ideas for a luxurious look
3D Wall Panels
Use decorative panels to create stunning effects and add unique accents to the space. They are a way to incorporate color, but they also come in a variety of styles, designs, and textures. To blend in with any interior, you can use wood, stone, or metal. 3D panels are a contemporary and appealing interior design concept that gives your walls a distinct personality. Nowadays this 3D wall design is one of the trending interior wall design ideas.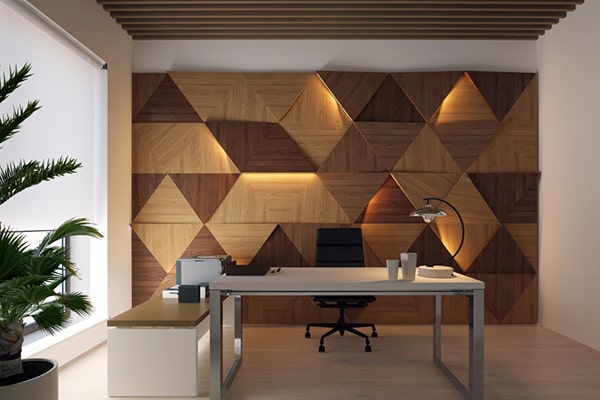 Plastering
Plaster is a mixture of cement, gypsum, sand, and water that is widely used in construction, art, and even medicine. Plastering walls is an important part of any home construction or renovation because it results in a smooth, durable finish that you can admire for years. It's a highly-skilled job that necessitates meticulous execution. Plastering your walls will give them a strong, smooth, and long-lasting finish. Not only that, but a well-plastered room will aid in the preservation of old walls, provide the ideal surface for painting, and aid in soundproofing.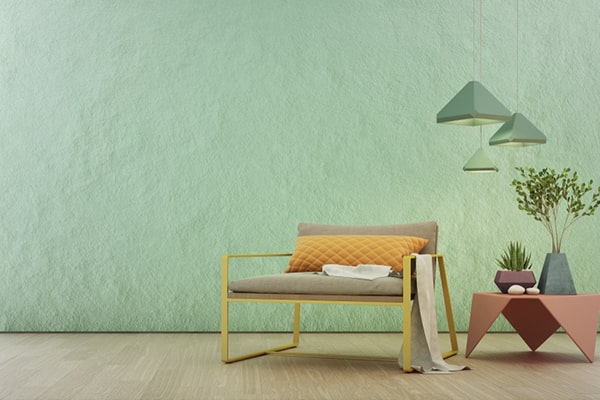 Wainscoting
Wainscoting has been around for centuries, but that doesn't mean your home can't benefit from a little modern sophistication. The wainscoting models of today are designed to add some utilitarian elegance to your space while also sprucing up plainer walls and protecting them from unwanted scuffing and overall wear and tear.
Wainscoting is ideal for entryways, stairwells, and hallways, as well as dining rooms, bathrooms, and social areas, and is made up of trim, chair rail, and molding detail that runs the horizontal length of your wall unit.
Stone Cladding
Natural stone cladding has the advantage of adding a personal and distinctive touch to any space. It can be used both on exterior facades and for interior decoration due to its versatility. Stone cladding, which comes in a variety of colors, textures, and patterns, is an excellent way to add elegance and a sense of history to your home. Not only that, but it also serves as a protective covering for walls and aids in the insulation and maintenance of your home's temperature.
Tiles
Tile finishing is ideal for the walls of the living room and bedroom, and it comes in a variety of hard and soft formats. Hard tiles are best for small rooms, while soft tiles are best for large rooms. The ability of both hard and soft tile to imitate stone, wood, and other designs allows you to transform the room's walls into a variety of themes.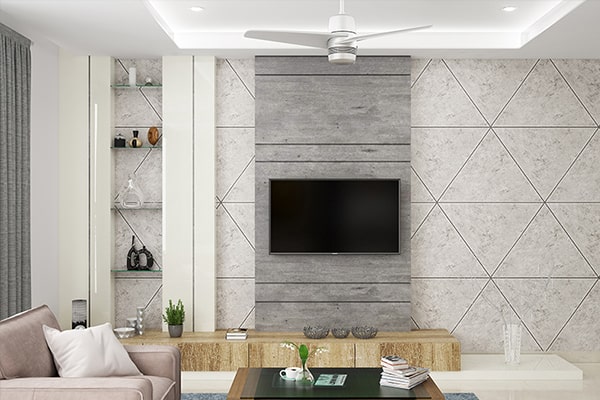 Patterned Roller Painting
Last but not the least, Patterned roller painting is one of the fantastic interior wall design ideas. Paint rollers with small designs and pictures molded into their surface, similar to stamps, are known as patterned rollers. A second roller is hidden behind it, which you dip into the paint. The patterned roller, which makes contact with the wall, brushes up against the second roller to pick up paint, whereby it stamps onto the wall as you pull down.
It works with a variety of patterned paint rollers, each of which can be applied with your choice of paint and colors to easily match any existing decor. Patterns can even be layered on top of one another to create a multi-design effect. The options are endless! Anyone who paints with a regular roller can make beautiful wallpaper patterns from the start.
If you liked these interior wall design ideas, you might be also interested in the Top 7 Ceiling Design Ideas To Elevate Your Home Or Workspace

You can also follow us on Instagram or Facebook for more interesting updates