You might think that having artificial grass installed when you have pets will make your lovely green lawn look worn out. It's important to figure out what kind of infill material will be used when installing artificial grass. The layer beneath the artificial turf is known as infill, and some materials are better for pets than others.
Even though artificial turf is much easier to maintain than natural grass, you may be unsure whether it is the right choice for you if you have pets. After all, how do you maintain your artificial turf lawn when your furry friends seem to run and poop at all hours of the day and night?
Artificial grass isn't subjected to the same threats as natural grass, and it doesn't require the same routine maintenance. Although an artificial lawn is not susceptible to weeds or diseases/fungi, it does risk other wear and tear in high traffic areas, as well as weather damage. Just because it's made of plastic doesn't mean it won't take time and effort to maintain once it's installed.
Watering a lawn can consume as much as 20,400 gallons per month. Artificial turf in your yard not only saves you water but also provides you and your pet with a beautiful lawn to enjoy. But, after your dog has played, do you know how to maintain artificial grass?
We'll go over how to maintain artificial grass when you have pets so that it looks great all year!
How to Deal with Pet Pee and Poop?
You won't have to do much to clean up your pet's pee, but you will have to do something about the mess your furry friends leave behind, and you'll have to do it quickly. Using a pooper scooper, collect the solid waste and dispose of what you can. If you don't have a pooper scooper, you can pick up your pet's waste with tissues or old newspapers. After that, hose down the area to get rid of any leftover mess.
What to do about Urine Odor?
If your artificial grass is giving off a dog pee smell, you'll need to deodorize the affected areas to get rid of the odor. To begin, hose down the area with a garden hose. Then, mix equal parts vinegar and water to make a vinegar solution. Rinse the area by spraying it with this solution and then rinsing it with clean water. Vinegar is a natural deodorizer that is non-toxic and safe for children and pets. It's also a great way to get rid of any lingering odors inside the house.
Cleaning and Maintenance Routine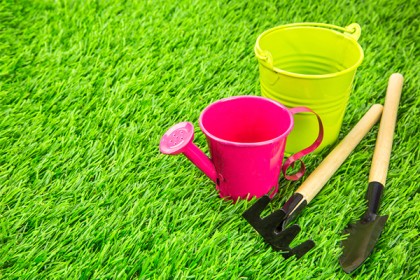 Most artificial grass only needs to be cleaned once or twice a week to keep dust and debris from building up too much. Simply spraying it down with a garden hose should suffice to keep it looking good.
If you have a pet who relies on your grass to relieve itself, make sure you clean up after them on a regular basis and apply deodorizer as needed to keep things smelling fresh and clean. Getting a fine rake or brush that you can use on the lawn is also a good idea. Pulling the artificial turf against the grain will keep it looking stiff and perky. Make sure to replenish the infill on a regular basis!
Call in your Local Artificial Grass Experts
We hope you have learned how to maintain artificial grass when you have pets. choosing the right type of turf or maintaining your artificial grass can seem daunting, but a little expert advice can go a long way.
We can help you choose, install, and maintain pet-friendly products that will transform your lawn magnificent at TheInstallers
Why TheInstallers
We offer free on-site quotes as well as a variety of financing options.
We are one of the best eco-friendly and dependable artificial grass installation companies.
We are a family-owned company with decades of practical experience.

Check This Out: What Are The Best Places To Install Synthetic Grass? [Uses Of Artificial Grass]
You can also follow us on Instagram or Facebook for more interesting updates