Solid Polymer Core or Stone Plastic Composite or SPC Flooring has a rigid core made from powdered limestone, polyvinyl chloride, and stabilizers. It might be referenced as Stone polymer composite flooring because of its dimensionally stable, dense, quiet, and strong.
SPC is a Premium type of LVP (luxury vinyl plank) that is 100% waterproof and more durable material than Luxury vinyl plank.
SPC flooring is a resilient material that gives a cold feeling and good feet sense compared to tiles. The SPC core provides this flooring with incredible durability, allowing it to maintain its shape even on uneven subfloors.
This flooring is an excellent cost-effective option for main floors of residential homes with moderate use in kitchens, living rooms, and bathrooms. It's also great for basements that need waterproofing, second homes, or rental properties because it's minimal maintenance, can take a beating, and is inexpensive to swap out to keep a modern design.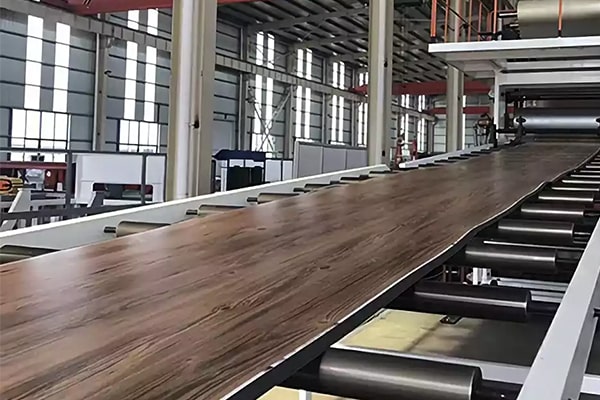 Here are the layers commonly found in SPC flooring from top to bottom
Wear layer – While not every type of SPC flooring will include UV protection, all boards or tiles will have a wear layer. This is the most crucial layer in terms of protection, and an excellent thick wear layer may keep your flooring looking new for years after it's been applied.
SPC Core – SPC flooring has a solid, watertight core that will not expand or ripple no matter how much moisture it is exposed to.
SPC flooring comprises a core of limestone and stabilizers, which gives it more rigidity. This core is ultra-dense and does not contain foaming agents like standard WPC flooring. It makes the flooring slightly less soft underfoot, making it more resilient.
Decorative layer– Although SPC flooring has a distinct core, it still contains a vinyl image layer. This offers your flooring a wood or stone appearance, and more expensive companies tend to have more realistic goods. In some situations, the design or picture layer may be applied directly to our next option.
Backing Layer– This is your plank's strong base. A thick, high-quality backing layer can add to the cost, adding comfort and insulation. A pre-attached underlayment is frequently included with the backing.
Ultraviolet Layer– UV rays can cause considerable damage to natural hardwood floors, but they're equally bad for vinyl and SPC boards.
Benefits of Installing SPC flooring
One of the essential advantages of choosing SPC flooring for your home is its durability. SPC is also a superior option to standard LVP if your property has a lot of floor movement.
We estimate that over 90% of SPC flooring is waterproof. Although the core and structure play a significant role, you should still study the fine print before installing this flooring in your kitchens, bathrooms, or below-grade rooms.

The most challenging aspect of installing SPC flooring is shifting the boxes, which may be rather difficult. It's easy to keep your floor looking great. You're set if you vacuum and mop now and again. Because of the material's rigidity, clean cuts with a power saw are possible, and most capable consumers can complete a medium-sized room in less than a day.

Eliminating the use of actual wood saves natural resources and allows for recycling, which is Environmentally friendly.
SPC often comes with excellent manufacturer warranties, and the length of the warranty increases with the thickness of the planks' wear layer and core.
Here are some of the Drawbacks of SPC Flooring
Before installation, the subfloor should be leveled, smooth, and free of dust and dirt. To achieve a perfect result, you must dedicate some time and effort to this process. Any particles trapped beneath the SPC surface will generate lumps and bumps if the subfloor is not properly prepared. Over time, this will cause major flooring concerns, as well as rip and tear of SPC sections.
Heavy furniture, pet paws, sand, or any sharp object will leave scratches on the surface of SPC flooring. When it comes to sharp things, extra caution is required. Always remember to keep your SPC flooring smooth by covering it with a layer of felt, mat, or rugs.
Hence by considering the benefits and drawbacks of SPC flooring, we will suggest you select SPC flooring based on the area, and look of your home.

You can also follow us on Instagram or Facebook for more interesting updates

Check This Out: Top 5 Different Types Of Flooring In India | Best Flooring Materials