What is indoor sports flooring?

Suitable flooring is an important part of an indoor sporting stadium. It can be a part of the gym, Tennis courts, or indoor badminton. An indoor sports floor must have a smooth surface, and it should be like a pillow for the players must be able to support force reduction. It must protect players from injuries and slips while having activities by pillow-like support for their feet as it lands on the floor and provides good force resistance.
Qualities of good sports floor
It must be waterproof.
It must be unbreakable.
It must have durability.
It has to be lasting.
Indoor sports floors should contain all the above qualities and must be supportive in all weather conditions, especially for the youngster who is in just the growing stage of their human locomotor system.
How to select a good indoor sporting floor
Indoor sports floor offers two main things performance and durability. This is due to the fact that the performance of a floor's surface and its longevity both discuss problems of value for money and safety.
Safety and lifespan are particularly crucial issues in schools and sports facilities. In the end, you need sports flooring that is appropriate for the task.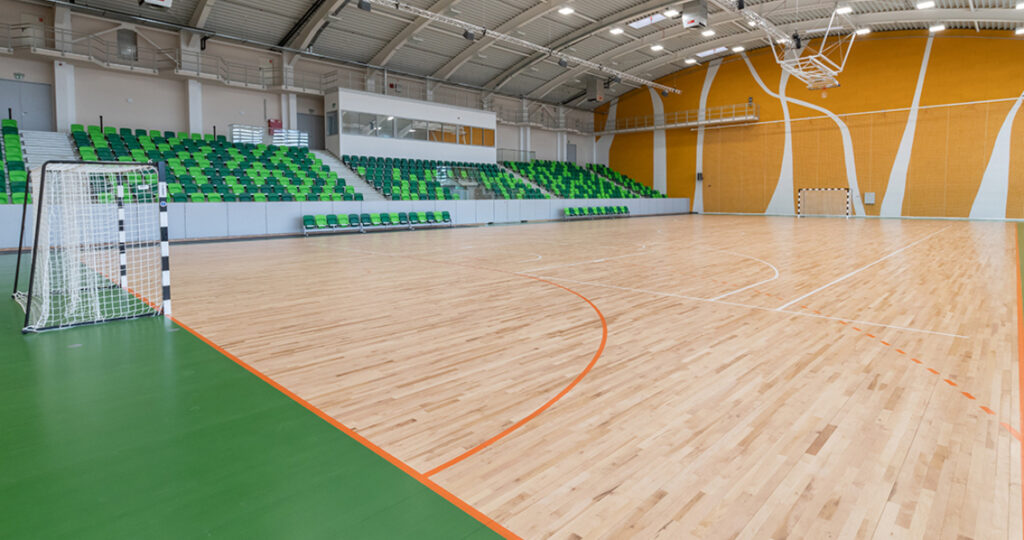 Polyurethane floors
Most athletic facilities feature polyurethane floors in multipurpose spaces. The floor offers a gentle cushioning effect and is non-slip. Most sports, like sprinting, hockey, basketball, and indoor football can be played on this surface.
Timber floors
Sports-related timber floors are made without any layers of possibly brittle alternative materials. They are the standard option for dance floors, exercise floors, and basketball courts because of their exceptional durability.
Vinyl floors
Polyurethane and vinyl sports flooring both have comparable performance, so choosing one over the other typically comes down to cost. Vinyl is multipurpose, just like polyurethane flooring, thus it can be utilized in athletic facilities.
Linoleum floors
For wet areas in a sports hall, such as shower rooms or dressing rooms, linoleum is a suitable material. Furthermore, it is employed in sports facilities in high-elasticity areas like basketball and badminton courts.
Underlay
Any sports flooring that you choose will require underlay because simply laying flooring over a surface like concrete or wood won't be enough to preserve it. The bounce, cushioning, and other characteristics of a floor can also be changed by using various underlay types and thickness
How to select the best Sports Hall Flooring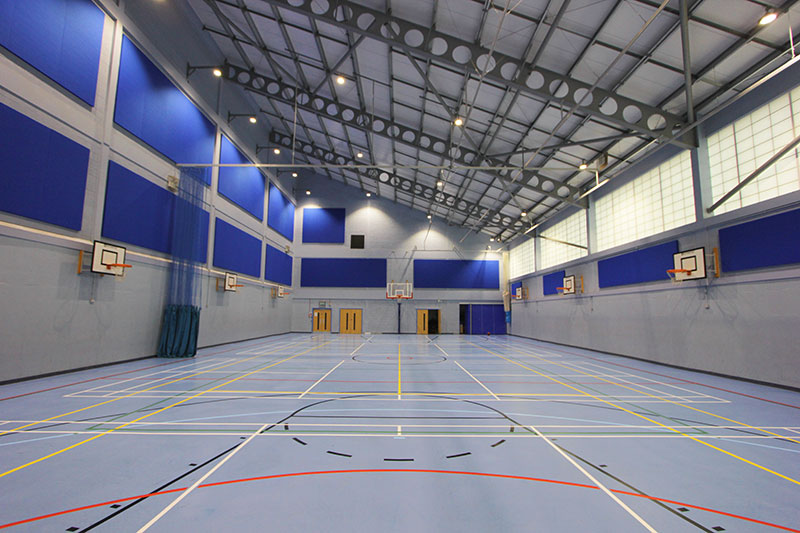 Specialized or multifunctional
Timber flooring is ideal for basketball and non-sporting events like examinations, assemblies, and family conferences. They aren't perfect for other court games, either, because of the rough, harsh surface. Vinyl or polyurethane is recommended for multi-sport use. These two materials are equally strong while providing better cushioning.
Budget
The most expensive option is a wood floor, which would be followed by vinyl and polyurethane. The traditional option, favored by many, is timber. Vinyl and polyurethane are more affordable overall and provide a larger range of performance qualities. Ultimately, a polyurethane or vinyl floor will suffice for the majority of sports facilities.
Benefits of Indoor Sports Flooring
Sporting activities are a great way to meet new people, stay active, and have a lot of fun. However, to get the most out of it, people must exercise frequently; and to be motivated to play frequently, they must thoroughly love the experience. This is only possible if they are permitted to play their preferred sport in safety and comfort, at a convenient time and place. People are more likely to frequent the athletic facility that offers them a delightful experience when they may practice any sport they want, whenever they want, in an ideal environment.
Functional every day of the year
The main benefit of indoor sporting facilities is that they can be used at any time, in any weather. Sports may be played indoors in a climate-controlled atmosphere year-round, no matter the weather. Playing or training becomes difficult or sometimes impossible in such temperatures. An indoor sports complex can accommodate games and events even on the coldest days or during the heaviest downpours, so that is never a problem. Rain, snow, or extremely low temperatures won't cause matches or practices to be postponed. Regardless of the weather, an indoor location offers cos temperatures and adequate lighting.
Safe
Aside from comfort and utility, indoor sports facilities provide users with exceptional safety:
There is no possibility of overheating, burning or being soaked by heavy rainfall. Due to the harsh winds and low temperatures, there is little risk that it will become sick from the cold. Sharp rocks, mud, or debris present no risk of sliding and injuring oneself.
Climate control
It provides year-round comfortable indoor temperatures so that both participants and spectators can take pleasure in their favorite sports without being concerned about the weather. Wind, heat and cold don't cause any problems at all.

Playing conditions
contemporary indoor sports complexes beat outdoor facilities by a wide margin because they have level, well-kept playing grounds, cutting-edge equipment, and exciting environments that boost performance and individual pleasure.
If you're interested in indoor sports flooring, The Installers is here to assist you. Our experienced team can install your indoor flooring using special tools and skills.
Looking for flooring services, we are one of the best flooring installation service providers all over India at your doorstep.