To establish a setting where the mind can concentrate and be productive, office space has to have a clever and appealing design. The ideal workplace interior design balances aesthetics and functionality with few distracting elements. Today, we go through the top five cutting-edge concepts for offices.
These suggestions will enable you to concentrate and get the most out of your office space, whether a complete building, a contemporary office, or three adjoining rooms. Before discussing the concepts, it's critical to comprehend a few features of office interior designs that can help you get the most out of your workspace.
Office Design: How to Make a Decision
To increase productivity and foster a healthy work environment, several businesses are thinking about incorporating office interior design aspects into their workplaces. To promote a healthy, secure, and productive atmosphere, there is a need for an understanding of the significance of office interior design as well as the comprehensive approach to implementing it. Continue reading to have a thorough knowledge of this!
The Top 5 Most Creative Office Interior Design Concepts
Apply textures
Simplicity and Excellence: The Perfect Blend
Make it bright.
Conference room: The hub of magic
Play Around with Shapes


1. Apply textures
An interior designer's best friend is texture. It has the potential to completely transform the workspace if applied properly.
Textured walls may be a fantastic way to construct a distinctive and contemporary work environment that encourages workers to unwind and rest during breaks. This is especially true when combined with art. The visual appeal of art on textured walls will never fade, which is suitable for the office interior design style you were looking for!


2. Simplicity and Excellence: The Perfect Blend
Finding and maintaining the ideal balance between quality and simplicity is key to successful office interior design!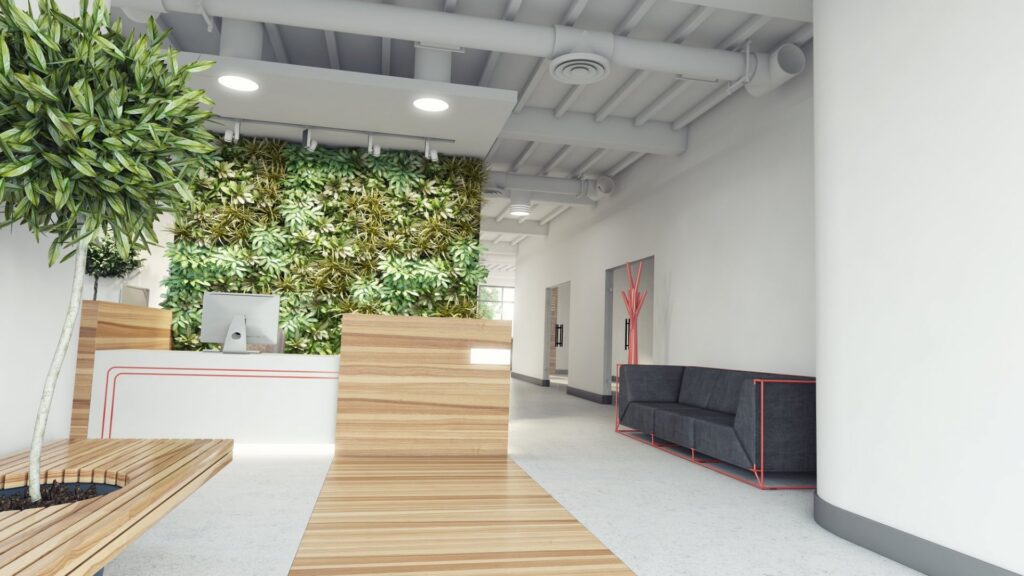 A comfortable and safe work environment can be achieved by properly aligning furniture and adding an aesthetic touch. But there's a fine line between finding balance and going too far.
Because it's so simple to be sidetracked, watch out that the layout of the workplace doesn't reduce productivity. To create an office environment that is well-organized, space planning is crucial. In new office buildings, startup businesses may be seen utilising the commercial interior to establish the area's mood with minimalist designs and brand-appropriate colour schemes.


3. Make it bright.
The fact that it is an office space does not need to be decorated in plain, uninspiring off-whites and greys. A little colour burst never hurts, so experiment with bold, brilliant hues that fit in without drawing attention while arranging the interior decor of your business. The colour schemes employed in many office interior designs fall short of expectations.
You'll be astonished at the impact that choosing colours that complement the vibe of the workspace can have, as it adds a layer of vitality to the surroundings. Contrary to common belief, a well-lit atelier is an ideal workspace for producing high-end work.


4. Conference room: The hub of magic
Designing the conference room is a challenge since it is where important decisions are made and where the majority of partnerships take place. To create the ideal professional setting in a conference room, make sure the light is visually pleasant and bounces off the wall properly.
It is frequently considered the most crucial area when designing an office space since it should ideally reflect the company's core values and ideals.


5. Play Around with Shapes
The variety of materials and shapes available for workplace interior design is vast. There is so much possibility for creativity since you can constantly try new things and utilise materials and shapes that might not be typical of an office environment. To create the tone of the business, add circular structures or paint checks or stripes on one wall.
A beautiful workspace may be achieved by including minor details that are commonly found in design studios.
It is possible to add wooden planks to individual workstations, which also adds visual appeal and is becoming more and more common in the office interior design industry.

If you are planning give to new look to office interior and exterior, so here is some ideas and we are perfect for your work, our team are professional for installation.