The representation of the entire home and the occupants is the living room.
The living area is where you will unwind and spend time with friends. It is one of your home's most crucial components and where many significant things are located. Because we spend a lot of time at home thanks to the epidemic, we may make it inviting and pleasant. Living rooms are typically the areas of your home that most guests have access to, so why not make an effort to style them nicely. The following are living room decorating ideas for 2023.
Furnished, Polished
A furnished living area with matte-finished walls and ceramic floor tiles functions well.
Include a cosy furniture set matching the floor and tile's colour gradient. These are the two primary components of living room decor ideas that give the space a polished and equipped appearance. Given that it is a living space, a TV stand with a matte finish that matches it will appear stylish.
Include additional furniture, such as a table or couch, that complements the colour gradient. One of the elegant and straightforward living room decorating ideas for 2023 is this.
Biophilic
A natural environment is the best because it always stays in style. Your living space will have a lively, natural feel thanks to a biophilic atmosphere. One of the most incredible living room ideas that will be popular in 2023 is this one. The biophilic living spaces have plenty of natural light and ventilation. Large door windows are strategically positioned to let in enough light. House plants create a natural and relaxing atmosphere in the living area.

Choose Traditionally
Nothing compares to experiencing a genuine Indian environment in your living room. The best way to give your living room an Indian touch is to include old wooden furniture and a wooden swing. A temple is where you got your nazaar charm? So, include that as decoration. Buy those chimes at an antique shop and include that. In reality, the quick and fast-paced westernisation has diminished our cultural influence. Why not reintroduce it? One of the most incredible living room decorating ideas for 2023 is to make it vibrant, genuine, and classic.
The Unassuming
Many people are embracing minimalism these days. Be it for a way of life or simply for living room decorating suggestions. Minimalist living room design ideas are undoubtedly for you if you want to keep things understated, and classy. This is one of our favourites. Because there will be so few items in your living space, a minimalist aesthetic requires careful planning. Choose attractive and cosy furniture, a TV, and a few other things you'll want easy access to in the living area. Design the living room in a colour scheme that works. Minimalist interior design is practical and easy to maintain.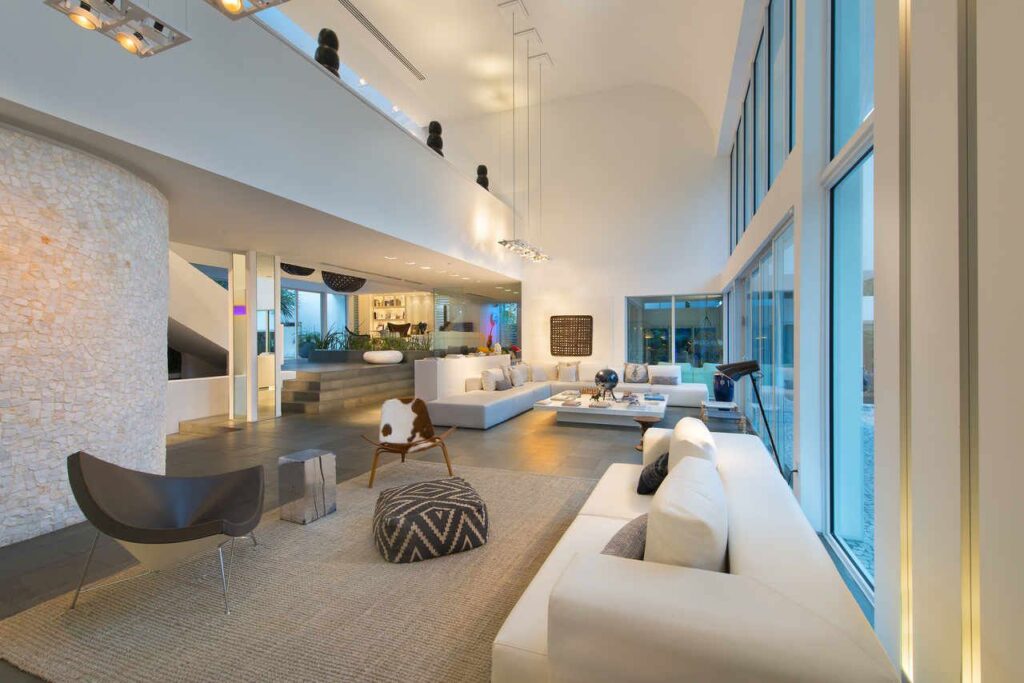 Colourful and Energetic
Nothing inspires living room decor ideas like a vibrant and lively environment. You can choose themes that go with how you see your living area. What better approach to decorating a living room if you have children at home than to include colourful objects here and there? You may create a strikingly modern appearance by using vibrant solid colours like blue, red, green, and yellow. However, watch that you don't overboard and ensure the interiors flow well.

Rearrange your Furniture in the Living Room
Use what you already have to give your living area an economical facelift. Remove unnecessary stuff, clear away clutter, and rethink furniture layouts to completely transform your living area without spending a money. Recruit a friend or family member to move you in moving furniture until you have a visually appealing layout. Arrange chairs and sofas in groups that encourage discussion.
Create Your Own Living Room Art
Paint your own canvas painting for a low-cost living room decoration concept. Purchase blank canvases to paint and hang boldly over a mantel or sofa. Brush on numerous beautiful geometric forms or scatter colours randomly for a modern composition using paints in your favorite colors. If you prefer less abstract art, use the canvases as a foundation for painted pictures, stencilled patterns, or collages made from fabric scraps.


Collectables should be displayed in groups.
Showcase your collections to add colours, patterns, and styles to your living room design. Curios and knickknacks (including priceless passed-down artefacts and inexpensive thrift shop finds) have the most impact when arranged by colour, form, or subject matter organised by colour, form, or subject matter, trinkets and knickknacks (including priceless passed-down artefacts and inexpensive thrift shop finds) have the most impact. Keep those characteristics in mind when looking for affordable items complimenting look for affordable items that complement them.


Your Interior and Exterior Designing Partner Theinstallers