Introduction
Summertime is the perfect time to get out and enjoy the sunshine. However, many homeowners feel like they are missing out due to the lack of outdoor space in their homes. Fortunately, one of the best solutions to this problem is to install a pergola.
A pergola is a structure consisting of upright posts or pillars connected by horizontal beams and rafters. It can be used in many different ways, such as providing shade in your garden or serving as an outdoor living or dining area. This makes it the perfect solution for anyone looking to add some extra outdoor space and style to their home.
Furthermore, installing a pergola is relatively simple and straightforward. With the right tools and materials, you can easily do it yourself or hire someone to do it for you. In this article, we'll provide a complete guide on how to install a pergola so that you can enjoy your summer in style!

Benefits of Installing a Pergola
Installing a pergola brings a myriad of benefits that make it the perfect backyard addition for summer. Not only is it a great way to add visual appeal and create an inviting outdoor space, but pergolas also provide shade and protection from the elements. Plus, you can customize your pergola in a variety of ways, depending on your specific needs.
For instance, you can choose from different materials such as wood, metal or vinyl. If you're seeking extra protection from the sun, many pergola kits come with weather-resistant fabric covers and adjustable louvres so you can customize the amount of shade provided.
Additionally, pergolas offer an excellent place to hang outdoor string lights or use solar-powered lighting for added ambience and style. Finally, if you're looking for a low-maintenance option, you may want to consider installing a retractable pergola canopy that gives easy coverage when the sun is out and rolls away when it's not needed.
Factors to Consider Before Installing a Pergola
Before you dive into a pergola installation project, there are several factors to consider.
Location
Where you place your pergola can really affect the enjoyment of your outdoor space. Consider the prevailing wind direction and the position of the sun when choosing a location. Also, think about where will best provide an open-air entertainment space and shade from direct sunlight exposure.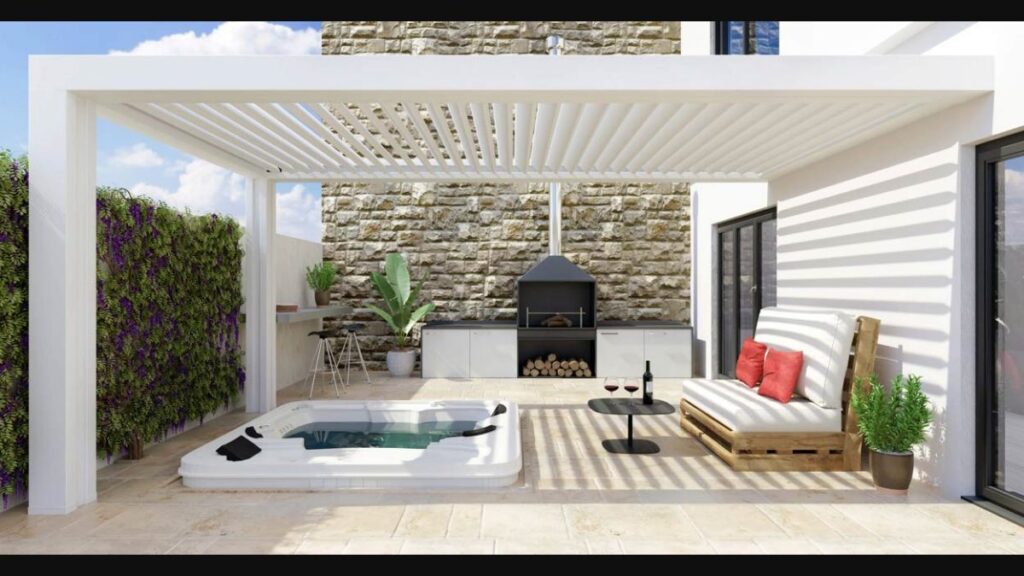 Material
Pergolas are usually constructed with wood or metal, though composite materials can also be used. Wood is the more popular choice, as it's often more affordable and easier to work with, but it will require more frequent maintenance to ensure its longevity. Metal pergolas offer a modern look, durability and low-maintenance upkeep requirements.
Size
Think about how many people you want to enjoy your new outdoor area when planning out the size of your pergola – larger spaces require more substantial structures. Additionally, consider local building regulations and zoning requirements as this may affect what size and type of pergola you choose.
Types of Pergolas and Materials
There are many styles and materials to choose from, depending on your needs, tastes and budget.
From classical wood to modern metal, here are some of the most popular pergola materials:
Wood
Wooden pergolas provide a classic look that's perfect for any outdoor space. You can find them in various kinds of wood including cedar and redwood, both of which are known for their strength and durability. These types of pergolas require regular maintenance though, so be sure to consider that when making your decision.
Aluminum
Aluminum is one of the most popular choices for outdoor structures due to its lightweight properties and ability to resist corrosion. While more expensive than wood, it requires less maintenance over time which makes it a great choice for those looking for something with a more modern esthetic.
Vinyl
Vinyl is another great option with many benefits including improved insulation against extreme weather conditions such as hail or heavy rain. It also requires very minimal maintenance which makes it an attractive solution for those looking for a long-term investment.

Conclusion
In conclusion, a pergola installation is a great way to enjoy the summer and make the most of your outdoor space. It can provide you with a place to relax and entertain, as well as shade from the sun and protection from the elements. Pergolas can also increase the value of your home, making it a great investment.
For professional pergola installation in India, The Installers can help you design a structure that will last a lifetime.