With the coming new trendy flooring options for office, it can be something difficult to pick the right flooring for your office space! When choosing a flooring element for your office space, you must consider the best among the rest. Because the layout and ergonomy of your offices are essential.

They serve as the first form of communication for your business, but they can also have a significant impact on the productivity and outcomes of your employees.

While choosing the best type of flooring for your modern office space, consider below flooring options as well as elements that may favor one option over another. Let's check the best flooring ideas for office space.
Best Flooring Ideas for Office Space
Vinyl Flooring
Vinyl flooring is one of the best flooring options for office because of its durability and long-lasting functionality. It resists damage from things like scratches from dragged furniture and dents from high heels. Vinyl is ideal for office buildings with high foot traffic. Furthermore, it requires minimal maintenance and is easy to clean.
Carpet Flooring
Carpet is one more best flooring options if want an office that offers soothing comfort and noise insulation. To suit your budget and design needs, carpet flooring is offered in various types, styles, and colors.

Carpet is very flexible, and it can be replaced if it gets repaired or damaged. The only thing is that the carpet must be vacuumed daily and should be cleaned at certain intervals.
Wooden Flooring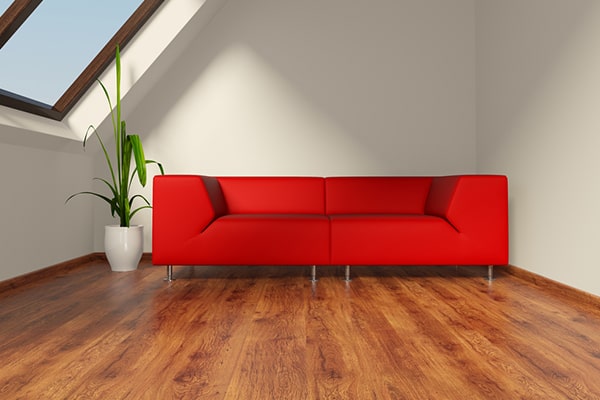 Wooden flooring is a practical, durable, and beautiful option for office flooring as it is stylish and gives an office a classic, executive feel. Commercial wood flooring such as solid wood, engineered wood, and locking hardwood floors offers a classy appearance ideal for impressing clients.

Engineered hardwood is an eco-friendly alternative to real hardwood flooring, and offers virtually the same durability and design benefits.
Rubber Flooring
Rubber is an ideal material for high-traffic interior spaces like offices and workstations. It is an office flooring option that is low maintenance and very adaptable. It is durable as well as resistant to heat and water.

Additionally, considered to be the most slip-resistant type of flooring due to its natural qualities. Along with providing comfort while walking, it is also noise-resistant. It also comes in a variety of textures and colors.
Laminate Flooring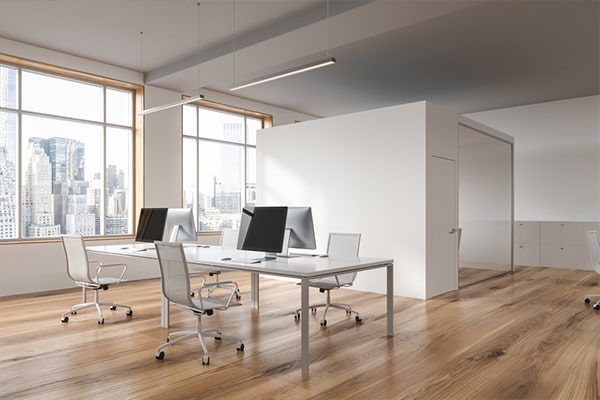 Laminate is a less expensive option than stone, tiles, or wood flooring. Lamination is the process of joining and sealing two or more different types of materials. It is not easily scratched or dented and is simple to install. It is built in layers and is intended to withstand warping from moisture.
It typically has a thick surface coating to protect against dings and other damage. This kind of floor doesn't need to be maintained or cleaned frequently.
Natural Stone Flooring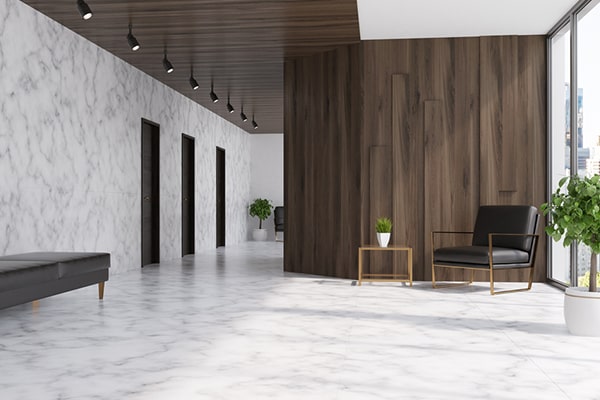 Perhaps not ideal for every office, as it's a little expensive but offers a luxurious look. It is a higher-end material, creating a distinctive view that adds special appearance to the decor.

Natural stone may scratch and stain, but a protective sealer can be used to help reduce issues. It needs regular care and cleaning.
Tiles Flooring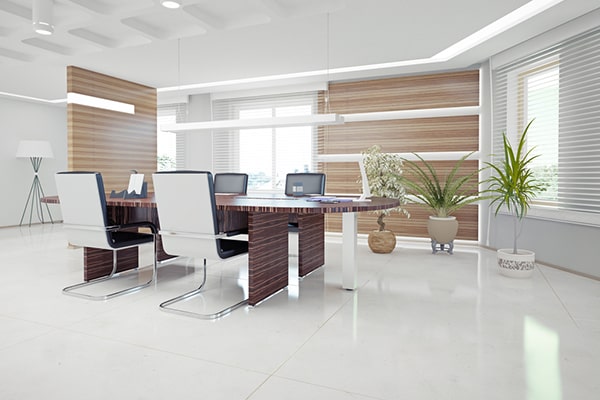 Another best flooring option is Tile for an office where water damage can cause. It offers warmth and beauty, as well as durability.

Although they are easy to maintain but can be difficult to replace if they crack, and they typically don't have the same noise-isolating qualities as other types of flooring materials.
Linoleum Flooring
Linoleum flooring is incredibly robust and resistant to damage. With the proper care and maintenance, it can last up to 40 years. This flooring is made from natural ingredients and is favored for its exceptional durability in addition to its favorable environmental profile.
It's available in various colors, patterns, and styles. It can conceal signs of wear and tear and is resistant to scratches.
Well, finally, you have some information on different flooring ideas for office. In addition to the above assessments, it will be necessary to consider the overall look and feel you want to accomplish and the main intent of each room when you explore office flooring options.

Pick the best solution based on your budget. No matter which flooring you are going to choose, you have to maintain and clean it on a regular basis. So which one you are planning for?

Follow us on social media for more interesting installation tips  (Instagram | Facebook | LinkedIn | Twitter)