Interior walls in black are deep and dramatic, and they never fail to make a statement. People have shied away from having a black accent wall in their interior spaces throughout the years. However, in recent years, we've seen this tendency creeping up the social ladder and into many people's homes. If you've been considering crossing over to the dark side, this article is for you.

1. Showcase a 3D Black Bedroom Accent Wall
Take a page from this bedroom area's dramatic and gorgeous 3D black accent wall and construct an accent wall that suits the tone of your space. Even better if your bedroom gets plenty of natural light. Use all of the natural and artificial components you have to create a flawlessly planned integrated setting.

2. Soften the look using additional elements
Yes, a black accent wall might be overbearing. This is especially true in a bedroom. However, if you are still confident that you need one but are concerned about going overboard, using other design aspects to tone it down might be a fantastic solution.
Mirrors, textiles, neutral-colored wood, and even framed photographs or wall arts can be used to achieve the same effect.

3. Use simple yet eye-catching fluted panels in your design.
When it comes to building a bed back accent wall, designers have traditionally relied on fluted panels. So why not go with black fluted panels instead and create a 'wow!' wall for your room? You may finish the design with either black furniture and décor or brighter colours such as white or light grey. The safest bet is to keep the decor simple so that your black bedroom accent wall receives all of the attention it deserves.

4. Include Jewel Tones
When it comes to luxury interior design, black and gold is a tried-and-true winning combo. To add some vibrancy to your dark bedroom, choose comparable colours. A white headboard, white accent lighting, plus a few black and gold décor pieces can instantly transform your bedroom into a luxurious retreat. You'll never want to leave your own sanctuary if you add a few flower designs like the white and gold wall.

5. Use Fabric to Soften the Look 
Use your fabric headboard as an accent for a softer statement and watch your bedroom come alive like never before. Consider this exquisite design, which uses a greyish black headboard as an accent. While this virtually black colour doesn't diminish the impact of vibrant colours, it also provides a grayscale option with bedding, wall art, and light fixtures that complement the dark headboard.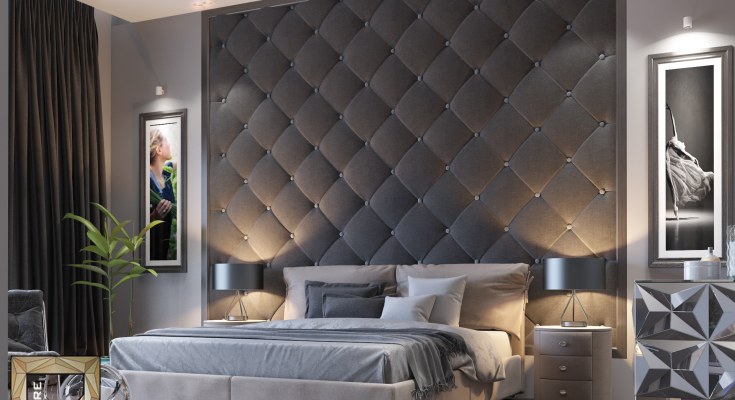 6. Break Free From The One-Wall Only Restriction
When it comes to decorating black walls, most individuals limit themselves to simply one wall. But have you ever pondered what your room would look like if all of the walls were black? We'll tell you that it'll look wonderful if you use the right pieces to create the entire room. In case you're wondering what these 'right elements' are, consider neutral furniture, plenty of sunlight, and indoor plants.


7. Add a Geometric Twist
A black bedroom accent wall is a terrific idea, but adding more than just paint may help make a more dramatic impact. You may be wondering how. For a startling effect, include a headboard with geometric pop-ups all over it. The matte finish gives a sleek design that catches the eye and makes the space stand out.

8. Accept the Eclectic
Refine your diverse taste in your bedroom by styling common design motifs in an innovative way. And with plenty of lighting and exquisite accessories, your space will seem everything from dreary.


9. Make Your Bed the Centre of Attention
Make your bed the focal point of your black bedroom (as it should be) and deck it out with white. A fluffy white duvet is a great place to begin since it will make your bed stand out. Bonus? It will effortlessly balance out the dark and make your area appear big and stylish without requiring any effort on your part.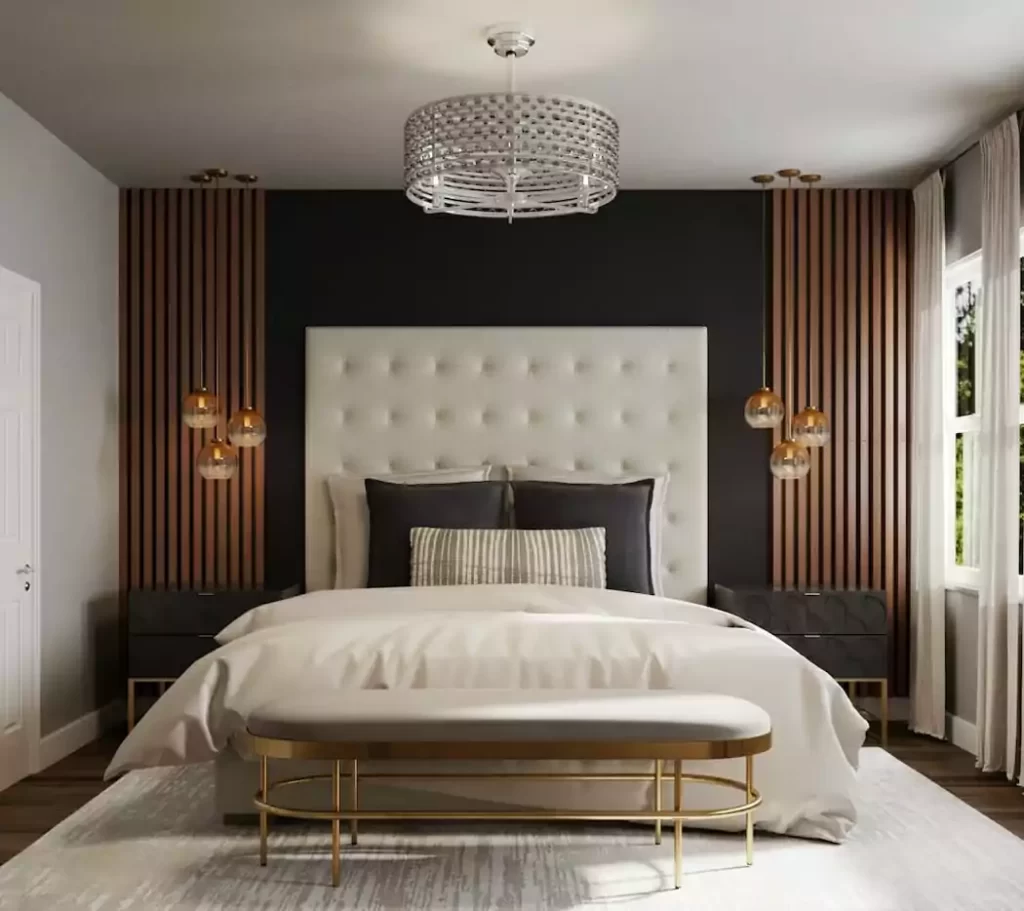 10. Think about Classical Style Panels.
Classical themed bedrooms have been popular in recent years, and what better way to explore than to decorate your walls with black classical panels! Nothing says "sleek and sophisticated" like matte black classic panels. Why is matte used? The absence of gloss makes the colour feel more muted and hence less overpowering.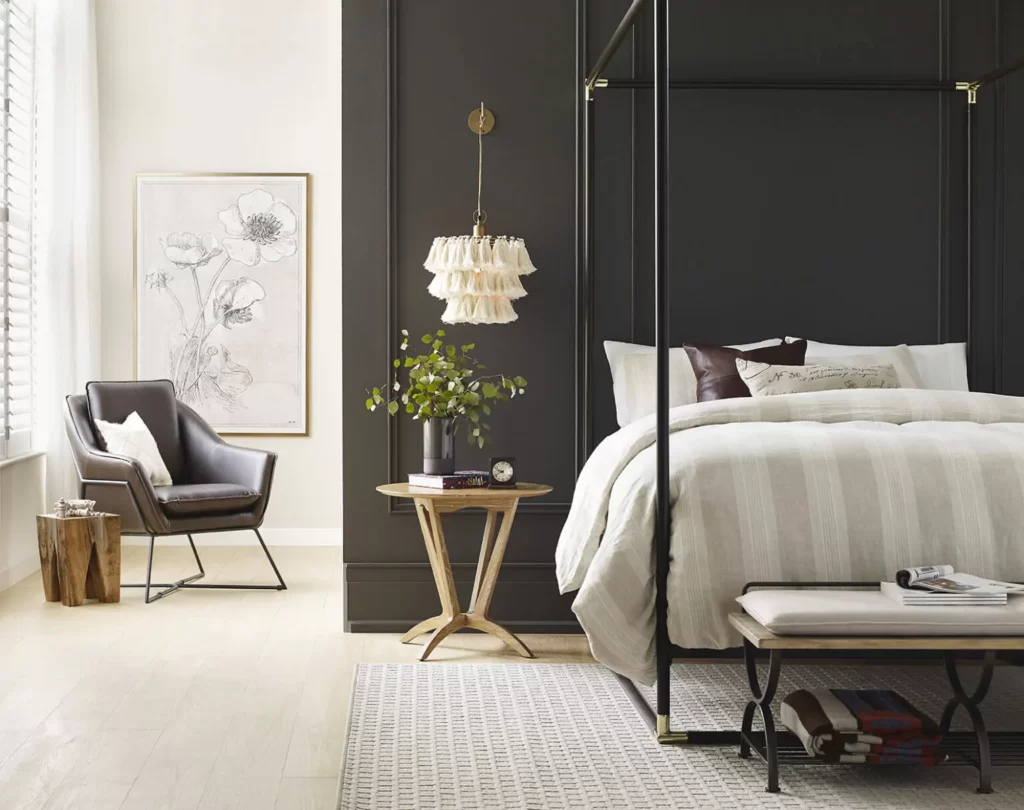 We hope these ideas have encouraged you to build a black bedroom accent wall the next time you're at it. If you're still seeking alternatives, Theinstallers can assist.